Our Community

Life in East Montgomery, Alabama
Celebrate your hard-earned retirement with an elegant home at The Crossings at Eastchase. Our lifestyle options – Independent Living, Assisted Living, and Memory Care – and care plans encourage you to live each moment in a meaningful way, with engaging activities at every turn, including all the elements shown to promote health, wellness, spiritual engagement, and living a longer, happier life. We call it the Masterpiece Lifestyle. Our Masterpiece Living program means promoting a culture for continued intellectual growth, having successful aging coaches on-hand, and providing purposeful programming to help reduce risks associated with getting older.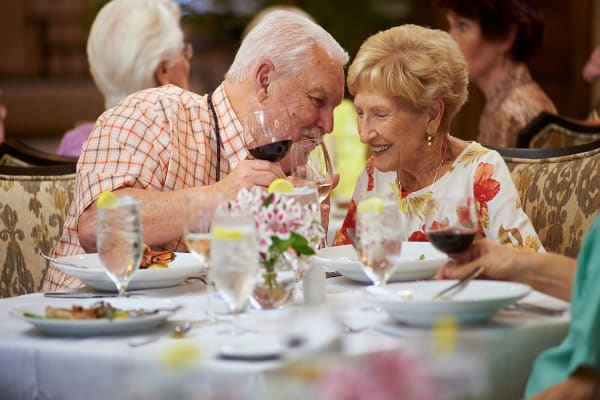 The Crossings at Eastchase ensures each day is designed by you – whether that means exploring the nearby shops at The Shoppes at Eastchase, strolling downtown Montgomery's charming streets, or sitting with neighbors enjoying the sounds of nature and the community's beautiful surroundings. Nurture yourself at the well-appointed community center and spa, or join yoga and exercise classes in the fitness center.
"I loved living in my home and had wonderful neighbors, but I was lonely and wanted to be around people. One of the things I liked the most about The Crossings at Eastchase is that if the need arises to transition to assisted living or memory care, I can do so without hassle. I like living here because I have the freedom to walk, visit with many residents, dance, enjoy entertainment, read a good book and especially, work with flowers!
- Kitty S. - The Crossings at Eastchase
The Crossings at Eastchase has it all. Give us a call today to learn more about what sets our community apart.